INTRODUCTION
---
The foundation for Globalization Cooperation was born out of the era of globalization as a new breed of international organization.
In accordance with the successful implementation of Harvard Kennedy School's globalization theories in the Americas, Europe and China, the foundation is in cooperation with the United Nations, IMF and various reputable institutions, to organize globalization forums for discussing and sharing the experiences and missions of the modern human development.
Throughout the years, the foundation has worked with many international organizations, experts of frontier sciences, academicians and leaders across the globe. Such valuable cooperations have been proved to be crucial for resource sharing.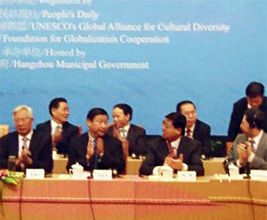 Dr. Sun of the Foundation with President Xi During the Global Forum
---
ADDITIONAL INFORMATION